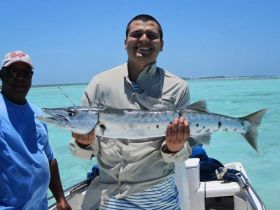 In the inland of Belize, there are Chinese grocery stores and expat stores that have detergent, cereal and salad dressings. For example, at the Chinese grocery store, we get meats, canned food, dog food and detergents on a weekly basis. We prefer to shop weekly and not monthly. Our weekly groceries are about US $50 to $75 for two adults and two dogs.
In addition, we buy fruits and vegetables at the farmer's market in San Ignacio, which is inexpensive. Market day is every Saturday. You're looking at $10 to $15 a week. We buy meats at the grocery and seafood at the fish market, which is also at the same farmer's market. There's lots of fish here. There's conch, lobster, shrimp, etc. The total bill for everything from the grocery store and farmer's market / fish market would be anywhere between $60 to $90 a week. We may not buy this much every week, because there might be surplus in the pantry. If you live on the islands, food cost in Belize would be slightly more, about $90 to $100 a week.
When you live like a local Belizean and are not picky about having name brand imported products, the cost for food is not as much. For example, if you can work with just regular bleach, you can use the Belize brand. However, if you must have Tide, as an example, if you're picky about name brands, you would have to go to an expat store, and there aren't a lot of them. In doing so, it would cost you more fuel because these expat stores are generally not in town. The expat stores tend to be in Belmopan (the capital), which, from San Ignacio (where I live), is a 40 minute drive, or Belize City, which is an hour and a half drive from San Ignacio.
Posted February 23, 2015