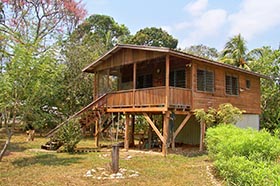 You can get a decent gardener here in Belize for US $125 per week, which is the standard rate for gardeners here. Most gardeners live on the compound where they work and those who do not live in the compound work from 8 AM to 5 PM, Monday to Friday.
If the gardener is not working for you full time, you can pay them based on when they come. For example, if they come once a month and you can pay up to $100. The reason it could cost this much is that, if they come only once a month, they will have a lot of work for one day. They will trim all the trees, trim the lawn, clean the grass, etc.
Sometimes the gardeners get someone to help them do the gardening once a month. Most gardeners come in with their children or some helper.
(House and garden in Esperanza Village, Cayo District, Belize,pictured.)
Posted August 24, 2015