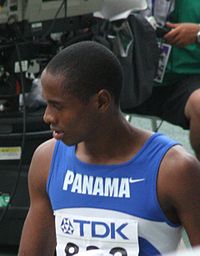 Raising children is easy in Panama.
The schools are excellent; both the private and the non-private. There's a lot of help. The teachers are well-trained and some are brought from the United States to teach or from other countries. There's a lot of extra-curricular activity and the kids are safe.
Our students here in Panama have a lot of opportunities if they want to get ahead. There's music and art, and there's sports. We have the best boxers and the best basketball teams and we have Panamanians on baseball teams in the United States. We also have a lot of swimming and track teams.
We have a lot of opportunities in Panama and the children are open to everything in the world. The Internet in Panama is high-speed. You can get anything here almost immediately. All the movies, all the books, the entire Internet is available in Panama. In Panama, we are probably more up on the news than most people in the United States.
(Longjumper, Irving Jahir Saladino Aranda, Panama's first and only Olympic gold medalist, pictured.)
Posted October 30, 2015