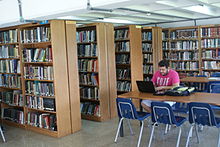 The private schools in Panama are always upgrading- they're always looking for new teachers. They bring in teachers with a high efficiency rate of teaching and have a lot of new techniques.
The non-private schools are run by the government. The students use their uniforms, are given their books, and the school is much, much cheaper.
The students play a lot of sports in all the schools. They also have a lot of shows in the schools, and art classes. They have a lot of things in the schools to keep the students busy. For example, they have the end-of-the-year-show, the Mother's Day and the Father's Day show, and all of the other shows.
My grandkids go to private school, and their schedule is really heavy, because they spend more than 8 hours at school, and then they're given homework, so they have another 2 hours to study. Then they have plays that they have to practice for. They also have sports, get-togethers on Sundays, and science activities. They're really busy. They keep them busy and out of trouble.
These kids get into the best schools. For example, I was educated in Panama and I went to Georgia Tech. Lots of them go back to Georgia Tech and Wharton School of Business. They get into the medical schools, and then they take their doctor's degree in a place with a good reputation.
(Library of the University of Florida campus in near the Panama Canal, Panama, pictured.)
Posted November 23, 2016