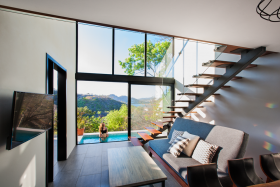 Regarding the price of a home, condo, or apartment, an example would be this new development here in San Juan Del Sur that's just getting started. It's a pretty high-end development that's called Santa Cruz Lofts. A one-bedroom studio loft condo with a private swimming pool is currently listed for US $199,000.
In the neighborhood of Las Delicias, which is five minutes by car outside of San Juan Del Sur, there is a small development being built in which you can get a one-bedroom stand-alone home, not really with any land but just a home, for about $55,000.
You could also purchase a condo or a big, beautiful house up in the hills overlooking the Bay of San Juan for $1 million. There's quite a range.
(Condo and private swimming pool at Santa Cruz Lofts, San Juan del Sur, Nicaragua, pictured.)
Posted June 19, 2017