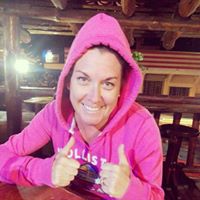 The average temperature in San Juan Del Sur is around 30 degrees Celsius (86 degrees Fahrenheit).
The weather changes with the seasons. Currently, it's April and we are in the middle of the dry season. The temperatures are gradually rising every day and will continue to rise until about the middle of May, when our first rains come and that will be the beginning of the rainy season.
We have a little indoor/outdoor thermometer that we find quite handy, As I'm writing this on April 6th, we checked the temperature and it got to 35 degrees Celsius (95 degrees Fahrenheit) at the hottest point of the day.
When we were getting ready to go to sleep at 10 o'clock in the evening, the temperature was still sitting at 29 degrees Celsius (84 degrees Fahrenheit). The temperature doesn't drop drastically at night. It does get a little bit cooler, but we don't have huge swings.
My husband and I love the rainy season. Once those rains start, the air is so much fresher. Within a couple of weeks of the rains starting, the landscape really starts to green up. The leaves on the trees come back to life. All the hillsides get super lush and green, literally within two to three weeks of when the rains start.
During the rainy season, we don't have rain all day, every day. We don't get torrential rains. It usually rains at night, which cools things off. During the day, it's beautiful, sunny, really nice and comfortable.
After the rainy season, it continues to be really nice, lush and fresh with daily temperature highs that are more comfortable in the range of 28 to 29 degrees Celsius (82 to 84 degrees Fahrenheit), and still lots of sun.
In December, January, and into February as well, it's what we call the windy season in San Juan Del Sur. The winds really pick up. It continues to be very comfortable and nice. The downfall is sometimes when the winds really start to go, having lunch or dinner at your favorite beachside restaurant isn't always the nicest experience because sand does tend to blow onto your table and into your plate at times. Overall, we still enjoy the windy season as well.
The most uncomfortable time and the time when if you ask someone, "How are you", they'll just say, "I'm hot", is the month of April and through to the beginning of May when the rain starts. It's just the most uncomfortable time.
If someone were thinking about moving to Nicaragua and they came for a month during this period of time, if they could live with this temperature and this climate, then the rest of the year is a breeze.
(Elisha MacKay finally able to wear a hoodie again in San Juan del Sur, Nicaragua, pictured.)
Posted June 15, 2017