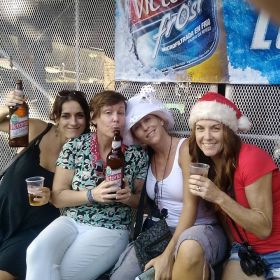 When we first arrived in Nicaragua, we tried to live in a few different places. We stay in San Juan del Sur mainly because of the community of expats that's here.
Here in San Juan del Sur, there are expats in their 20's, and there are those who are in their 80's. A third of the expats in San Juan del Sur are Canadians, a third are from Europe, and a third are from the rest of the world.
Everyone's background is different. There are those who are here for yoga, for surfing, the ones who are retired, those opening businesses, people who want a slower pace of life from North America, those who don't want their children to grow up with the kind of consumerism that there is in North America right now, and people who are here for religious reasons. The great thing is everyone's very different, but everyone gets along and we all get together.
We've had parties at our house. For example, we had a Christmas party with 30 -40 people at the house with likely 10 countries represented by people in their 20's through their 80's with different cultures and different holidays to talk about. You don't get the kind of tunnel vision you get if you're sitting with a room full of Canadians or Americans. You're getting perspectives from around the world and from all age groups. It's absolutely amazing.
(Christmas pub crawl, San Juan del Sur, Nicaragua, pictured.)
Posted May 26, 2017