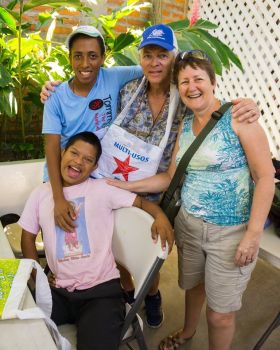 In San Juan del Sur, you can get by just speaking English. We have lots of customers who move to San Juan del Sur and customers who only come to visit who only speak English. Not every local in San Juan del Sur speaks English, though. Only 10-20% of locals speak English well, and another 10% speak some English. You're going to have a different type of relationship with locals if you don't speak any Spanish- it's going to be very rudimentary.
We knew absolutely zero Spanish when we moved to San Juan del Sur five years ago, and now I speak like an inquisitive five-year-old but it's enough for me to have good conversations with my Nicaraguan friends. It's enough for me to make my Nicaraguan friends laugh at what I'm saying and how I'm saying it.
Things are going to take more time when you're learning Spanish, and you're definitely going to look for help. In San Juan del Sur, if you go to a restaurant and you want to order food, or to the market to get fruits and vegetables, it's pretty simple to use Spanish. It's when you want to have a conversation with someone and make a friend that it's going to be a little more difficult to use Spanish, but you can definitely get by and make things happen.
A lot of businesses in San Juan del Sur that have to deal with foreigners have one person there who speaks English. I know if I go to the cell phone store in San Juan del Sur, to the pharmacy, or to the bank, there's someone who speaks English. Not everyone does, but there's always someone who can help you out when you're absolutely stuck. Along the way, the more Spanish you learn, the easier things get.
(Pictured: Making new friends at Manos Unidos in San Juan del Sur.)
Posted June 26, 2017