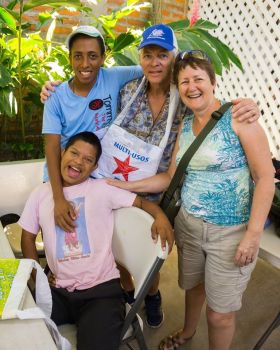 Most Nicaraguans are shy by nature. When they meet people, they're not outgoing or super friendly. Nicaraguans are a little bit subdued. They see so many different tourists and expats here in San Juan del Sur that they will wait for you to make the first move to show the kind of person that you are.
The expats who are here in San Juan del Sur are here to help the community and be part of things. They want the community to be better. The Nicaraguans love the kind of people who want to make the community better. I have very good relationships with hundreds of locals in San Juan del Sur.
The expats who come to Nicaragua who don't ever want to learn a word of Spanish, don't want to get to know any Nicaraguan or be a part of a community are treated how they should be treated- they are ignored. Most Nicaraguans have been in terrible situations- they've all had the worst things happen and they've all been without, so they're always there when they have someone there to help out their friends.
I've needed help many times as an expat here in Nicaragua. As an expat in Nicaragua, you're here without your friends or family, so your support structure consists of local people who are always extremely helpful and amazing to us because we've always shown respect and we've always been a part of the community. If you're someone who has no respect for the community here in Nicaragua, you're not going to find any help; you will have to figure things out on your own.
Nicaraguans are not really happy about the American government and how they've stepped in on things, but they don't figure that translates to the average person. Most Nicaraguans are not happy with all the moves that their government makes, either, but they know it's not their fault that those moves have been made.
I haven't seen any ill-will in Nicaragua towards any nationality based on where they're from. Everything I've seen in Nicaragua has been earned, whether good or bad.
(Volunteering with Manos Unidos to help people with disabilities, San Juan del Sur, Mexico, pictured.)
Posted May 24, 2017