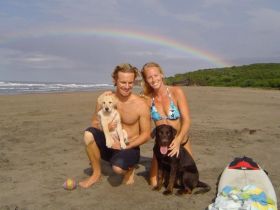 I'm not sure exactly what the crime rate is for San Juan Del Sur but I did see a study that Nicaragua is the safest country in Central America as far as the crime rate and murder rate.
I always tell people that Nicaragua is safer than a lot of places in the US, but if you're looking for trouble you damn sure can find it. So as long as you're not being a complete idiot and stumbling down the street drunk at night or doing something like that, you're going to be totally fine. It's incredibly safe. That's one of the best parts about being out in our area in Playa Guasacate, in Popoyo (about an hour and a half by car north of San Juan del Sur), we're a little bit outside of San Juan Del Sur, but it's very safe. If my wife and I didn't feel safe we definitely wouldn't live here. Also, we just had a baby.
In Nicaragua it's a little bit different than in the US. In the US, it's very common to leave your house totally empty, but in Nicaragua you can't just leave things vacant. You have to have someone there. A lot of people will have the cleaning lady or gardener in their house when they leave during the day. We do have dogs but they're not attack dogs or anything like that. We're kind of pulled back in a little hillside here. It's kind of like tucked in a jungle a little bit. We have someone on site 24 hours a day. The cost of having that is not ridiculous. It can be just like having your cleaning lady at the house just so some random person can't walk up and start taking your stuff.
We lock our doors but we feel really safe. We haven't had any gnarly instances. Obviously there's petty crime, like if you're on the beach and you leave your sandals or your iPhone, someone might grab them. But for the most part, it's super tranquilo. If you just use common sense and stay low key and do your thing, it's really safe.
In all our 13 years years here, in our zone, there's been perhaps 2 or 3 robbery type incidents where maybe it was an armed robbery or someone got punched or something like that. There haven't been any murders or anything relative to "estrangeiros" as they call them, or "foreigners." It's pretty tranquilo. There have been a few small instances but a lot of those possibly could have been prevented. It's kind of like the whole low hanging fruit theory. You just don't want to be a low hanging fruit on the tree so you won't get picked. Just do a few security things you can do anywhere in Nicaragua and it will keep you from being targeted. That's probably the best way to put it.
(Lance and Kristin Moss with their dogs on
Playa
Guasacate
,
a tranquil beach in Popoyo , north of San Juan del Sur, Nicaragua, pictured.)
Posted November 02, 2015