How much it costs to live in Granada, Nicaragua depends on where you live and how you want to live.
In Nicaragua, the average monthly budget is from US $300 - $600 per month.
There are families here in Nicaragua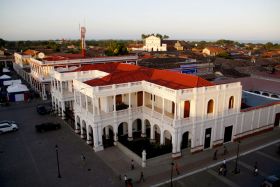 who can live on $600 per month, but who have a very simple life. For example, they cannot travel, but they can live.
As another example, in my personal life, I have two children and a wife who's still in school, and I can easily live on $1,200 per month, including my car expenses and house payments. My house, which 1,300 feet, three bedrooms and two and a half bathrooms, has a loan on it of $47,000, so my payments are $410 per month. In my circumstance, the remaining $790 per month is enough for us to live.
If you're a single pensionado (an expat retired person living in Nicaragua), you could live on $1,000 per month. This would include renting a house in Granada and having enough left over for utilities, food and transportation, etc.
A typical North American couple could live in Granada on $1,600 per month. This would include rent of $800 for an American-standard 2,200 square foot, 3 bedroom, two bathroom house in a good neighborhood. It would also include electrical, water, food, gas for the car (but no car payments), Internet, cable, basic healthcare (assuming paying for insurance but no out of the ordinary expenses), clothing and going out to dinner every once in a while.
Posted August 13, 2014