The cost of living question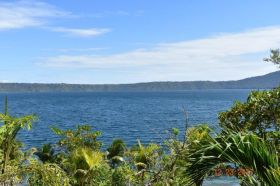 will greatly depend on your needs and if you are renting or purchased a home.
We shop for groceries in the Masaya farmers' market where we find spices, vegetables, fruits, and large pots to be used on our fire pit, pottery etc. We never leave here spending more than US$20, except for the large 24-30 inch pots that added US$35.
As it relates to rents, it all depends if you desire to live in Granada or outside in the smaller communities. In Granada, rents are higher as you get closer to the Calzada or as we also call this, the entertainment district - music, food and many vendors.
If you are near the Calzada you will also have the constant traffic and noise, and lots of tourists. Here for a 2 bedroom you are looking at US $1,000 - $1,400 and you need to add utilities with a small pool. Friends of ours found a US$400 per month rental without a pool 5 blocks from the Calzada and no air conditioning but did have ceiling fans.
We live in a small farm/bedroom community and here you would spend US $200 to $400 for a home. The question will be condition, and what you will need to fix to make it to your liking.
Electric costs can be a killer, especially if you use the air conditioning. This can add quickly US $200 per month to your rent. Water is fairly cheap US $20 max per month. We do not use air conditioning in any rooms of our home. We only use fans, and we use lots of office equipment and our monthly electric bill is between US $60 to the highest when we had welding work to be done, US $150.
We have Claro internet/cable and phone package that runs US$100 per month.
If you have no car, a taxi around town will cost you per person maybe US $2 per day. Busses between town are fairly cheap, maybe US $1- $2, depending on distance traveled.
We bought our home. All bills are running us approx US $,1000 max per month, which includes 3 helpers, and of course businesses expenses. If I take business and staff out we are living here on less than US $500 a month.
We like most people do not carry medical insurance or home insurance. The costs outweigh the benefit and so far we have been ok on medical, with limited to no costs, except dental cleaning US $25 and other medical bills of US $70 for doctor visits to the home. Medicine is cheaper here with most meds coming out of Mexico and Canada, I save 75% by buying my meds here.
Posted December 24, 2017