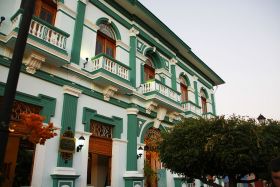 We have both expensive and decent restaurants here in Granada. The cost to eat at restaurants can range from US $5 to $20. There are some restaurants that are designed for customers from the US and are geared towards tourism. Those restaurants are going to cost you more money than the local ones.
If I want to go out for dinner and I don't want to spend a lot, I'll spend about $7 per plate for a chicken, an entree, and a salad. A drink would cost another $1.50. You can also buy meat, salad, and bread for $10 the most in a medium scale restaurant. If you go to a very high end restaurant, it would easily cost you $15 to $18 per plate.
If you want to go to lunch and you don't want to spend any more than $5, you can have rice, grilled beef or chicken, bread, and jalapenos. You can go to the Irish pub here, which is a very good place. They serve French fries, vegetables, beef, etc. and pay about $7.50 for lunch.
We also have food stands where you can get a meal for only $3 to $4. They are not high end places but they are all clean and decent.
Posted December 17, 2014