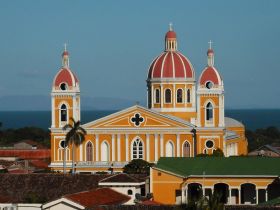 The center of Granada, Nicaragua is a typical old colonial town with a big park in the middle. Around the park are different hotels and restaurants. That is the center of the tourist area. We also have the church, which is also very beautiful, and which is located in front of the park. Then on the periphery of the center of the city, as you walk, you will find the lake at the end of Granada. At the lake you can find several restaurants and different activities for people who want to be on the water. That will be the more touristy areas of Granada.
Then there is the other side of Granada where there are more of the locals, as opposed to tourists and foreign residents. In this area you have the cemetery and you have the people who live there that are poorer.
You will see a lot of churches around Granada, which is something that Granada is known for. You will find more than ten churches all over the city. You will also see a combination of old houses, colonial houses and outside of Granada you will also see more old houses. It's a combination. As you move towards the center of Granada, you will see better construction of the homes and more wealthy areas. As you move away from the center of Granada, you will see more local people living there.
The two main streets in Granada, Nicaragua are Calle La Calzada and La Calle Atravesada. These streets intersect towards the center of Granada. One is the street that you use to go to the actual center of Granada and the other one goes to the lake. Calle Atravesada is a broad, divided street with a center area that has trees on it. Calle La Calzada is where the big houses of Granada were built a long time ago. Rich people live on that street where they have their big houses for many years. That's also the street where you will find the market where you can buy food and everything else that you need. Calle La Calzada is a street where you will find just just houses and some churches. Calle La Calzada is also where there are lots of restaurants and that's where the foreigners go at night. There are trees in the middle of the street and they hang over on both sides.
(Pictured: Granada, Nicaragua Cathedral with lake in the background.)
Posted June 08, 2015