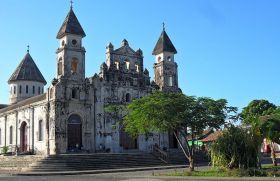 One of the worst things of living in Granada would be the noise. The city is sometimes very noisy. As you move farther away from the city, there will be less and less noise. Keep in mind though, that the city keeps on growing. It is a Catholic city, so the churches like to have processions and demonstrations. (Iglesias de Guadalupe, pictured.) There are also kids playing drums. You'll see cars passing by. So the noise could be a problem because some people do not like that. But then again, some people like to interact with the locals.
The heat is another thing. If you are not used to the heat, then you might find it uncomfortable. April and May are usually our hottest months. Sometimes we reach 90 to 95 degrees during these hot months. That is something that can be a problem if you are not used to it. That is why a lot of people here like to have swimming pools. Expats love it and they need it because it is a good way to cool off.
Another thing could be the lack of options. Some people like having a lot of options such as having different types of restaurants to choose from. They want supermarkets to have more variety of goods like they are used to in their home countries or in the US, for example. We don't have a Home Depot here in Granada, where you can find all the tools you will ever need. Pretty much what people do who live out of town is to drive back and forth into to Managua and buy what they need in the hardware store there, which is similar to Home Depot.
But if you would consider the low taxes and the low cost of living, those are the best reasons for living and retiring here. Another good thing about living here in Granada is that everything is close. You don't need a car right away because you can walk. You can easily get to the center, the supermarkets, and you can easily find stuff in the local market, too. You ocean is only an hour away, and you can visit the lake any time. You can always go to the Lake Apoyo.
The houses in Granada are not that big. You don't need to buy gigantic colonial homes to live here. Overall, Granada is decent and safe. Life is easy going and everything is slow paced. If you are tired of living in a cosmopolitan city in the US or Canada and you don't want to pay a lot of money in taxes and services, Granada is a great place because this is a laid back city. Then, if one day you would like some change of environment, you can just go to Managua, which is only 35 minutes away.
If you want to deal with the locals in Granada and with the culture, this is a good place to be. I am not from Granada; I am from Managua and even I can see the difference. When I go to Granada, I can relax; I can walk down the streets. I don't have to carry any guns or any weapon and feel safe. I can walk to the market while seeing all the nice colonial houses, which are very lovely. It is like a weekend every day. I don't feel like I am working. I appreciate Granada now more than before when I used to work in Managua full time.
Posted December 17, 2014