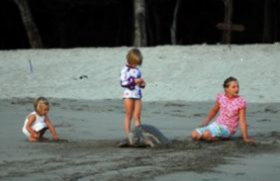 The low cost of living in Granada allows us to live much better than we would be living in the US and we certainly could not have been reinventing ourselves because of the fewer economic options we would have in the US.
We really like the people down here. Also, it's so much better now than 10 or 15 years ago; the infrastructure is much better. When we got here, electricity was on for 8 hours a day. Now, it might go off for a few minutes a week.
Nicaragua is a beautiful country – if you want to live in the ocean, no problem. If you want to live in the mountains, no problem. If you want to live in a colonial city, no problem. If you want to enjoy a little bit of it all, like we do, just build a house outside of the major city. One of the best things here is you have so many choices of how you want to live and where you want to live in Nicaragua because there's all types of living.
One of the worse things for my wife and I is that we're very disappointed in our level of Spanish even after almost ten years. But part of that is, as you get older, it is harder to learn, no matter what they say. Sometimes you just don't feel like doing it. But we continuously take lessons, which we enjoy, and we thought we would be fluent within six months. Getting here, ten years later, we can probably speak better than most of the expats here but certainly we haven't earned a Pulitzer Prize or anything. I can't think of too many worst things because we wouldn't stay here if there were many.
(Turtles and children on a beach at a wild life preserve. Nicaragua, pictured.)
Posted August 31, 2015