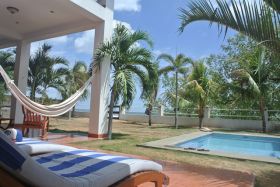 Retirees in Granada have an easy life. I met a guy who is a retiree from the army and he owns two houses. His typical daily activities are going out for drinks, watching baseball games, talking to other people all day long and looking for women because he is single.
He has one house in Granada where he lives and another in Managua. He lives in Granada but goes back to the Managua to meet other friends and have some drinks and do other things. He goes to the ocean to fish, too. He has a very relaxed kind of life. That is the kind of life expats can have here in Granada.
Then, we have expats like my friend Darrell Bushnell who is very active in community outreach programs. Other expats work with the community by teaching English to locals. For expats, life here depends on what you want to do and how you want to interact with the locals. Everyone has so many different activities. Life could be as easy as they want it to be.
Life is easy because it is affordable. Let us say you have US $1,500 a month from your pension or from Social Security. You can rent an apartment or a house for $400 or $500 a month, and then you pay another $100 for electricity and water. Your budget for food, which is very inexpensive, will depend on how much you consume. The rest of your money can go to any activity you want to do. You can go out with friends, have drinks, and go to the ocean. You can do pretty much anything; the sky is the limit.
Relative to how much it costs to live in North America, it is inexpensive in Granada, including having help like house cleaners, gardeners and everything else. Life is very easy for most Americans that have any income. Even with what is considered in the US as a very low income, you can still live in a very easy, nice, relaxed way in Granada.
One of the reasons I'm getting to this new concept is because I can see that Americans and other foreigners are searching and exploring new countries or lands of opportunities. They are looking for places where they can go and live, feel comfortable and safe because the cost of living in the countries where they are from is no longer affordable or it might be too tight to deal with everyday expenses. Another reason they come here to live may be the climate or the weather. If you live in a cold city and don't like the cold, Granada or Nicaragua in general could be the right place for you.
Posted October 13, 2014