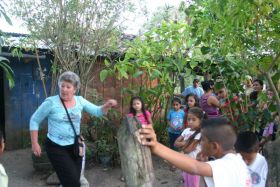 The expats in Granada, Nicaragua are treated very well.
Granada has one of the highest concentrations of expats in Nicaragua and even so, it's less than half of 1%, but obviously they own more of a property and other things.
I can give you stories where there were clashes between expats and locals, but there are usually reasons and the conflict would be more between two groups of individuals, as opposed to be because of a problem with one being an expat and one being a local. I don't see too many problems at all.
One thing that is very nice about the Nicaraguan people, and which is one of the reasons we chose Nicaragua, is that they're so friendly that even if they have a serious disagreement, for example, with our government's choices, they don't hold it against the US expats. They have a more global view than many people in the US. The history between the US and Nicaragua has gone awful. If I was a Nicaraguan, I'd probably be extremely upset, but they are not.
(Bea Bowersmith dancing with local kids in Nicaragua, pictured).
Posted September 01, 2015