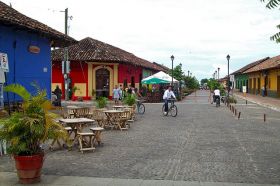 My guess would be that around 5% of the population of Granada, Nicaragua are expats but I am not completely sure about that. When you go to Granada, you see a lot of international people. You would see them walking. Some of the owners of restaurants and hotels in Granada are from Spain and most of the people who invest in Granada are foreign.
A large proportion of the local population in Granada is middle to lower class, and live in certain neighborhoods around Granada. The foreign people tend to live in the other areas, which are the more touristic areas. The center of Granada is the more touristic or foreign area and that's where you will see most of the foreigners but around the outskirts it will be mainly Nicaraguans.
The expats that you would see in Granada are a combination of Americans, Latin, Canadians, and Europeans, so there is a combination of cultures here. As you move towards the center, Granada becomes more and more of an international city.
Pictured: Granada, Nicaragua, central, more touristic area
Posted June 14, 2015