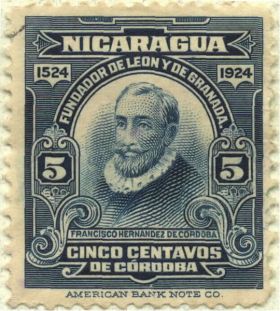 In Granada, you can get by with just English, but we highly recommend that you to learn Spanish because that is the language that you will hear around town. Not only do we speak Spanish, but we only have our own colloquial language that you as an expat would need to learn, especially if you decide to live and stay here in Granada.
Learning Spanish makes a huge difference for an expat because you can learn a lot about the culture easily and you would be able to talk with your neighbors. It will make your time and stay here in Granada more enjoyable and satisfying.
Most of the staff in the restaurants here in Granada speak English, but if you want to pay your electric bill or if you go to the bank, only some of the cashiers do speak English. and some do not. There is only about a 60% chance that you will get somebody in a bank who speaks English.
(A commemorative stamp of Francisco Hernandez de Cordoba, who founded Granada and Leon, Nicaragua.)
Posted February 10, 2015