More often than not, expats come to Granada to retire. Single men usually hang around, go to bars, drink beer, talk to other expats, and relax. Expats sometimes buy a house here in Granada and fix it, then live there the whole time. They connect with other people and look into potential businesses. Other expats come down here to do business, such as buying a piece of property and putting it back in the market. Others buy houses, renovate and they rent it out. Some expats buy houses by the lake or by the ocean. They use it for maybe 3 or 4 months to relax and then they go back home and work.
I also see interesting groups of Americans who bring their families here. Probably they are tired of living in the US and needs a new environment. They took their families to Nicaragua. A lot of expats are involved in social work, too. Others work for a church as a missionaries
We have a variety of expats in Granada,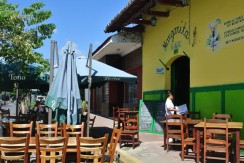 Nicaragua, from different countries. Mostly they are North American; Canadian and from different cities in the United States. We have people from San Francisco, New York, Miami, surprisingly a lot of people from Arkansas, Los Angeles, and little by little we have people from other places in the US that I never anticipated would be part of the expat community—people from North and South Dakota, for example. And then we have another group from Europe, mostly from Spain, England, Switzerland, Denmark, Holland, some people from Russia.
The expats in Granada have different levels of income. We have middle class and middle-upper class. We have some wealthier people who are looking to invest in a second home for rental income. Also, we have people who are ready to retire and want to live full time in Granada.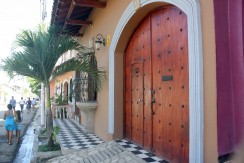 The age of the expats in Granada will range mostly around the 50s to the 70s or so. We have single expats and expats who come as a couple. In the last two to three years, I have seen more families coming to live in Granada, trying to experience it, who bring their kids. Now we have three bi-lingual schools in Granada that are filling that space where a family can bring their kids.
Also we have another group of Americans who perhaps work in Managua but who like to have a house in Granada, so they live in Granada. These people commute from their home in Granada to their office in Managua. The drive is a rather pleasant 45 minutes by car. (I know this because I commute from my home in Managua to my office in Granada.)
About 6 out of the 10 expats who settle in Granada are people who have done a good amount of traveling prior to moving to Granada and people who have more experience with Latin countries. Many have lived in another Latin country, so they don't feel afraid or intimidated. Generally, these expats are well educated. Many are a bit bohemian or eclectic, have been working in different countries, and perhaps they are more familiar with Spanish.
The other 4 out of 10 expats who move to Nicaragua are a mix of people who:
perhaps saw Nicaragua on House Hunters International, on Survivor, read an article in the New York Post or one of the magazines about moving overseas;
married a Nicaraguan while in the States; or
traveled to another Central American country such as Costa Rica and then by accident or on purpose visited Nicaragua and decided that they liked it and wanted to settle here.
Posted August 15, 2014