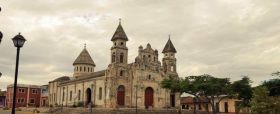 What are expats like in Granada? Well, they are retirees, investors or seasonal tourists or people that live year round in and around Granada. Some have a tourist visa and others are either pensionado (retired) or inversionista (investor) and yet others are perpetual tourists leaving the country every 90 days to get a new visa for 90 days. Some speak fluent Spanish yet others have learned to make due without really learning the language, but picking up a few words here and there.
Some might own a home and or business and others rent. We have been here since 2015, and full time in 2016 after we purchased a home outside of Granada. Some expats love to live in Granada with its great colonial architecture, history, tourism, entertainment and ability to meet with other expats, and maybe to a degree people feel safer in Granada than in the smaller communities. Some expats are also involved in the arts, animal shelter, schools teaching English and more. But yet others like us live in smaller communities around Granada. We feel totally comfortable in Diria, very safe and quiet relative to Granada. But the quiet period is over in December or during other holidays. We feel that we have more opportunities to integrate with the local community than being in Granada. But as the saying goes, "different strokes for different folks".
We have a great mix of expats that are: French, German, Brits, Danish, Dutch, Italian, Canadian, American, Chile, and more.....
There are expats here that have lived in Nicaragua for over 20 years and others for over ten years, which is the great majority. We have lived as expats in many countries in Latin America and other places. To us, Nicaragua is what the 80's was like in such countries as Venezuela and Colombia or even Mexico. Again, that's our view.
One thing you the reader needs to understand is that we all have different backgrounds and views on how we perceive Nicaragua and life in general in Granada. I would suggest don't take our opinion at face value but talk, listen, read and make up your own mind where to live and how to experience Granada and its surrounding areas.
Come and visit. Some of you may decide to stay like we did!
(Pictured: Guadalupe church, Granada, Nicaragua.)
Posted December 25, 2017