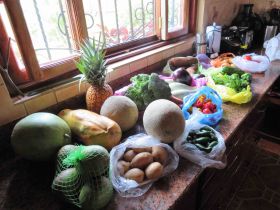 We shop outside of Granada, at the Masaya food market. We usually arrive around 7am on a Monday or Friday. We can buy many different fruits and vegetables and purchase enough food to last almost 2 weeks for 2 people and the cost is around US$16.
Its very safe to venture at the market early am. We also park by a parking vendor that watches our car.
If it rains we suggest you bring boots. We also suggest that you make sure you carry enough bags and small local currency, and do not take a lot of money. Why flaunt your wealth? Enjoy your shopping experience.
We have a long list of prices which we will add in our next post. Prices do change by the season but this gives us a guide to local prices.
(Pictured: Paul Daemen's haul from the Mayasa food market, Nicaragua.)
Posted December 22, 2017