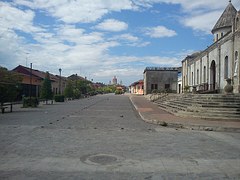 The lake is close to Granada, Nicaragua, so sometimes you feel a little bit hot. Granada is probably a little hotter than Managua. The average temperature in Granada is about 87 degrees Fahrenheit during the day.
Normally, we have a rainy season, but in the last two years the weather has been changing a lot. We were supposed to have rain in May. May has already ended this year and we didn't get any rain. Normally, rainy season is May and June, which is when we get the heavier amounts of rain. We also get some rain in September and we don't get a lot of rain for the rest of the year. We only have two seasons in Granada. It's either raining, or it's not. However, recently, we have not experienced a lot of rain.
Generally, at night it's a little cooler, but during the day, it's normally warm all the time.
(Pictured: street next to a church in Granada, Nicaragua.)
Posted July 19, 2015