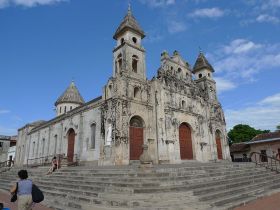 Granada is one of the safest cities in the whole country of Nicaragua.
When it rains in Nicaragua, the cities of Managua, Masaya, Leon, and many others get flooded. The good thing about Granada is that it has three deep natural ravines that drain the city's water to the lake.
You can feel earthquakes in Granada but the epicenters tend to be in Managua, Masaya, or close to Lake Apoyo. Consider this: houses and other buildings that were built in the 1600s through the 1800s in Granada are still standing. If there were strong earthquakes from the time they were built until now, they would have been destroyed.
Most of the hurricanes hit the Atlantic side of Nicaragua, but there are some Pacific hurricanes as well. Most of them will hit towards the north of Nicaragua, not Granada. I have lived in Nicaragua my whole life and I am not aware of hurricanes doing damage Granada.
We have active volcanoes in Nicaragua and have had issues before, recently in Leon, Masaya and Ometepe.
Posted August 15, 2014