What are the prices to purchase a condo and homes in Granada?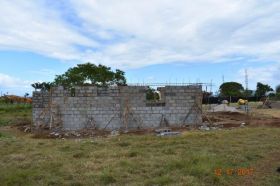 This is not a simple question, since it varies by location, type of finish, square feet, renovated, age, historical district, for sale by owner. So if you take into consideration all these variables its basically telling you to shop around and analyze. Take note that the real estate market is not transparent as it is in such countries as USA, Canada and others that have a MLS (multi listing service) system.
As you notice in some of the posts, people talk about prices but do not provide square foot or size of lot. All that must be taken into consideration, as well as HOA fees and what the fees entail and who holds the money!
The picture is of a new spec home being built in Los Balcones, outside of Granada. We are using an architect to design and build, and we are using ADA standard to have wider doors, no steps, and easy access to bathroom. The cost of this approximately 1,650 square foot home with all the upgrades is slightly over US$100 per square foot, which also includes the 6% real estate commission and the lot price of US $40,000. As you can see this is a concrete block home. We will be adding a steel roof structure and roof tiles. There are no HOA fees at Los Balcones.
On this 1,650 square foot home, as is the norm here you calculate all the area that's under the roof as the square feer. In some properties, they even add the square feet of the garage or storage, or patio.
When we shopped for our home we noticed that the value of homes in Granada were very high relative to what we could buy outside of town with similar square feet and finish. I would say the difference was close to 30-50%, depending on land and home condition.
As you can see, I am not going to place a price point but advising you to check and ask around when you are looking for a property. If you see a price on a home on the agent's website, make sure you confirm with agent prior does the price include the sales commission, which can be anywhere from 5 to 10%. On top of that add another 4-6% for closing costs (attorney fees, registration and taxes) depending on value of home.
Land prices are also all over the place and will all depend where you are going to buy and if the property has access to utilities and views of property and if land is in a development like Club Vista Lagos where lots on the rim can be as high as US $80,000 for a quarter acre lot to inside lots go for US $40,000 for a 2 acre lot, Los Balcones where lots are $40,000 for an acre, or you can go to the Mombacho area and pay in the neighborhood of US $30,000 per acre, or you come out to the farm community and you can pay around from US $12,000 to US $30,000 per manzana which is equal to 1.75 acres.
Club Vista Lagos' HOA is approximately US $40 per year for security, road maintenance, access to lake and club house (under construction)
One item to consider when buying on Laguna De Apoyo is can you get a permit to build. Make sure you have this confirmed prior to buying, prior to signing a purchase contract. Do not listen to seller or his attorney. Get it in writing that a home can be built. In developments such as Vista Lagos you can build with no issues, but don't assume you can build around the rim or on the laguna, it's not that simple.
Best advice we can provide is ask and verify in writing!
Posted December 25, 2017