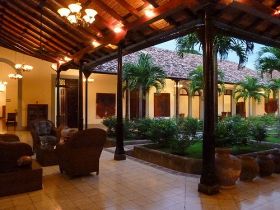 The economy of Granada, Nicaragua is mainly driven by tourism. There are hotels, small restaurants, and small shops. There are a lot of tourists coming in for the historical value that the city has, including cathedrals, the design of the houses, and the lifestyle.
There are a lot of foreigners that go to La Calzada, which is one of the main pedestrian streets in Granada. There are restaurants with different types of foods on this street. This is the place in Nicaragua where you would have the most variety of food selections. There's Indian, Italian, Irish, and even Greek food. There are also steaks and burgers. It's a nice place to go in the evening. There are small boutique hotels and backpacker hostels on this street.
The economy of Granada is growing. Tourism, which is the main driver of Granada's economy, is growing at a fast pace. There are now a lot of people attracted to the city. About 80% of visitors to Nicaragua spend a day or more in Granada.
(Hotel in Granada, Nicaragua, pictured.)
Posted December 22, 2017