The expats in Managua, Nicaragua come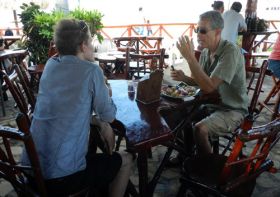 from a great variety of backgrounds and locations. Since most retirees look towards the areas of Granada and San Juan del Sur as their expat landing spots, Managua is often overlooked. However, a great number of expats do live in the Managua area due to it being the capital city. Many international corporations and non-governmental organizations are headquartered in Managua, so the mix of people is more cosmopolitan and diverse then it is in other towns where expats live.
The international expat group InterNations has a local chapter, and going to one of their events, you can meet people from India, Europe, Africa, Asia as well as North and South America. So whereas in Granada and San Juan del Sur you typically meet expats who come from the USA and Canada, with a smattering of Europeans, in Managua you can meet a truly diverse group of friendly expats doing interesting things in Nicaragua.
Thanks for reading and I hope you enjoyed my post on what the expats are like in Managua, Nicaragua!
Posted April 28, 2014