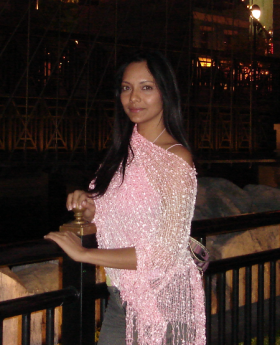 Most people in Managua wear t-shirts or polo shirts every day. This is also the usual working clothes of companies. They pair the shirts with trousers and closed shoes. Ladies wear blouses or t-shirts. Many ladies also wear pants or skirts.
If I were to compare the dress code in Managua to the dress code in Munich, Germany, where I come from, the way people dress here in Managua is lighter. We don't experience freezing temperatures in Nicaragua, so people dress lightly every day. It is also nice when you walk with someone here in Nicaragua and you put your hand on their shoulders because you can actually feel their shoulder instead of just layers of clothing like people in Germany or the US wear.
Clothing also varies depending on what you do for a living. Ladies in the market wear aprons with many pockets on top of their shirts. They look very traditional and it is nice to see them. You will also see children in traditional Indian clothing during the Independence Day celebration every 15th of September. Children go to school in traditional clothing. Men wear linen shirts and trousers (both of which are white) and ladies wear skirts and linen blouses.
When at home or if they need to go out to buy something, many Nicaraguans like to wear shorts and flip flops. Men go to work in long-sleeved shirts and women dress up the same way as Americans do when they go to work in an office in Miami.
(Actress and singer, Lya Barrioz, pictured.)
Posted February 03, 2015