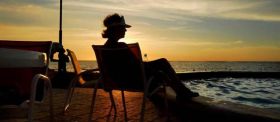 The answer to what it would be like to retire in Managua is different, depending on whether you're talking about the city of Managua, or out at the beach, 42 miles away (about an hour by car), which is where I live, at Gran Pacifica.
In Managua itself, if you need to be close to shopping and to browse for clothing at one of the nice stores, you should check out Siman, which would be very comparable to a Neiman Marcus. It would not be quite as expensive as Niman Marcus but it would certainly be upscale for Nicaragua. To give you an idea of the prices there, Levis are $75 each. If you really like the city and its shopping, then it's a great place to go.
For a nice place for expats to live, in a nice neighborhood, rents run from US $1,200 - $1,500 / month for a furnished place, plus you pay your own utilities.
The city of Managua has a little higher elevation, so it's a little bit cooler than we are right here at the ocean. A family of two could live fairly comfortably somewhere in the neighborhood of probably $3,000 / month for everything, all in. it's about the same for us out here at Gran Pacifica.
If you live in town, you can catch a taxi where you want to go, because it seems like there are millions of them. None of them have shocks and none of them have headliners, but you can get taxis everywhere.
Retirement in Managua town itself is not my cup of tea just because of the amount of traffic and the fact that you have to live behind razor wire and that kind of goes against my way of wanting to live. When it was being rebuild in the 1970s the town went through some difficult political times. So, every home and every neighborhood built walls to protect themselves from people from the outside. Here at Gran Pacifica, its just the opposite. We don't even allow walls. Retaining walls are all that's allowed and there has to be a variance from the architectural committee to put up any type of wall.
Gran Pacifica is a planned urban development that was planned by the same people responsible for Walt Disney Celebration, what many regard as a perfect American town, in Florida. For Gran Pacifica, however, they planned the town with Nicaraguan flavor instead of picket fences and big front porches with stoops like they did in Florida. Here, we have lots of outdoor terraces and lots of green space because we have the room for it.
Gran Pacifica has a community feel but not a city feel. That's going to be amended as we continue to grow because there will be a little commercial district, stores like laundromats and ice cream shops, etc. Gran Pacifica is a planned development with little neighborhoods. We are in Phase 1 right now, called "San Diego Viejo" (Old San Diego). There are cobblestone streets and brick sidewalks, streetlights with brand new LED lights on order right now. So, we have the amenities of the 21st century but the look of an old town.
Posted September 04, 2014