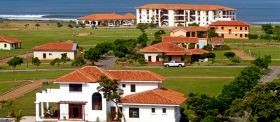 Interestingly, it costs a little bit more to build a house out by the ocean where we are (about an hour away from Managua; 42 miles) than in the town of Managua, itself. Here are the main reasons:
Logistics and transportation. In Managua, it's handy to have your materials and labor wherever you need it. Out by the ocean, we have to bring material and labor out from Managua.
Labor laws. Given our location, for example, we have to serve two meals that come out before 6 o'clock in the morning - you have to pay for lunch and breakfast.
Quality materials. We build with higher quality materials. In many places in Managua itself, they build with lighter weight materials and with a lighter roof.
Seismic standards. We build to California seismic standards. The reason we do is if we have a little earthquake, or we have a drought, or we have a lot of rain and the earth swells or shrinks, we don't want to have any foundation problems. We understand the seismic necessity of our type of construction, so we build homes that will hopefully be here 150 years from now.
After all this is factored in, in Managua, itself, it will cost you
somewhere
in the neighborhood of US $70 - $75 / square foot plus the land. At Gran Pacifica, we build somewhere around about $85 / square foot, for the reasons mentioned.
We are working on some alternative and less expensive but still quality building methods and materials for homes being built right now called M2. If you saw it you would think it was nothing more than Styrofoam with a wire on the inside and on the outside, and that is pretty much correct, but it's load-bearing. We've got one local Nicaraguan family who is building an M2 home. We are allowing the construction, basically as a test to see how it works out. So, there are ways that we are working to keep our costs in line. However, I've built and worked with people who own homes now in our development. I make very very sure that every home is built to the standards that we want to live in ourselves.
Posted September 02, 2014