The cost of construction in Managua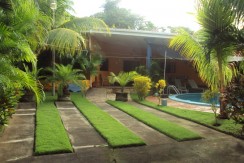 will depend on who is the builder or the company that you want to work with. I suggest you talk with at least with three different builders to understand what they would charge to build.
Second the sale prices for homes or condos is also related to location. Managua like most other cities in that it will have good locations and bad location as well.
The location will also affect the cost for the basic services.
For an example of prices, if you want to buy a condo in Las Colinas, you will find prices between US $90,000 to $120,000, depending on the quantity of bedrooms and bathrooms.
To buy a house in Managua, you can find prices from $60,000 for homes located at La Centro America, to $100,000 in Los Robles. Then the price can go much higher if you try to buy a house in Los Altos de Santo Domingo.
To give you a further idea, the photograph above is of a four bedroom, two bathroom home with a pool near the beach in the department of Managua that is listed for $240,000.
Posted April 29, 2014