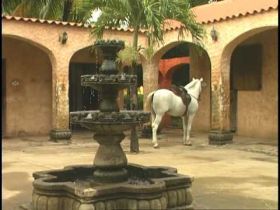 Forty years ago, Nicaragua's economic system was more towards communism, but then that was overturned. Towards the present, Nicaragua's governmental system is a mix between democratic and socialist and the economy has in some ways copied that. You can see it in different ways that business is done, what the government requires of businesses here with reference to the businesses' obligations to their employees. You could still see some socialist types of markets or socialist ways of thinking and way of doing things. But then you also see capitalism. For example, some of the bigger Nicaraguan corporations are not only here in Nicaragua but throughout Central America and some have even gone to the US.
For example, some of the Nicaraguan banks have actually gone to the US. In fact, the Bancentro LAFISE has started doing business in the US. They have branches now in Florida. I don't think Banco de America Central has gone to the US yet, but they are throughout the region from Mexico to Panama. So there's a little bit of both flavors, both socialist and democratic capitalist.
You can very well open a business here in Nicaragua. To invest in Nicaragua, each and every day is more of a sure investment in the way that if you bring your money here and you purchase, invest, or you open a company or a business it's in sure in the sense that it will be yours. That's your investment. Nobody is going to take that away from you as in the situation of let's say a civil uprising, a revolution, an earthquake, or one of those many things that people associate with Nicaragua. Now it's different. Nicaragua is in a different economic situation. It's a different social situation and there are a lot of factors that now create a healthy environment for investors.
Of course, just like in any investment, you have to be careful and you still have to do your due diligence. Unfortunately, what I've seen here is a lot of people who are considering an investment just asking, "Can I do this?", "Is this the correct way to do things?", or, "What do you suggest?". The problem is that they're not asking the right people; the lawyers, accountants, or people who have studied and have in depth knowledge of what's the legal procedure, the correct procedure to purchase a property or open a business, how to pay taxes, how to discharge your responsibilities as an employer, etc. A lot of times people come down here and they prefer to just to ask the neighbor or the person they know questions about the proper procedures for starting a business and hiring employees. And sometimes, that leads to negative consequences because of going by hearsay.
As a new and naïve investor, I might take my money, purchase a property, but in reality because I didn't do my due diligence or look for the guidance from someone who's experienced and has knowledge of how these things are done in Nicaragua, I might be taken advantage of. My money may be stolen, or worse.
For example, I've even heard of situations of people coming here to buy a house, villa, condo, or an apartment and they were presented with a contract in English, while here in Nicaragua the official language of the country is Spanish. If you were to sign an English contract here it's not valid. But unfortunately people have been taken advantage of in situations like that. I know one person that was outed $25,000.
So, yes, you can invest, it's a safe investment, but you have to be careful and have to do your due diligence. You have to cross your I's and cross your t's. It's important to do that and if you find a professional who will guide you, you have to weigh the pros and cons of paying the money or taking your chances, just like in the US. You have to find someone who you can trust. You really have to take time, use discernment, and make a good decision. And if you do that, well, usually you'll end up making a good return of your investment.
( Courtyard in Nicaragua, pictured.)
Posted March 09, 2016