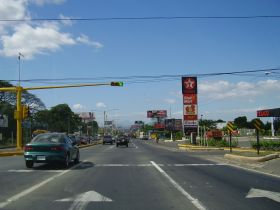 The economy in Nicaragua is looking good.
There's been some deceleration in certain parts of the world because oil prices have really gone down a lot, so certain people in the region have felt it. For example, Venezuela has been doing really poorly but here in Nicaragua, we're doing very well. In fact, we've been experiencing somewhat of a little construction boom in Nicaragua. We have the first apartment complex skyrise in the locality of Metro Centro, which you can see when you're driving on the Carretera Masaya. It's a big, new building and it's the first of its kind.
Also, we have also have an actual Wal-Mart. We've always had the investment from Wal-Mart through subsidiaries, but now we have a name brand Wal-Mart here in the country.
There's a lot of building going on. We also have the airport in Tola, which was recently finished. The road has given accessibility to many of the great resorts on the Gold Coast. When you have good signs in the construction sector that just means good things are to follow because, like they say, you build it and they will come. And that's what Nicaragua is really expecting for this year. Towards the last two quarters of last year and the first quarter of this year some construction has ended, some has begun and it's positive from here on out.
(Pictured: Carretera Masaya, Managua, Nicaragua.)
Posted March 05, 2016