There are several insurance strategies for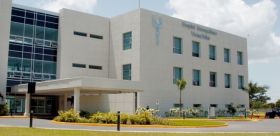 living in Nicaragua. Remember that most of the hospitals here are good but not necessarily great…..one exception being the Vivian Pellas Metropolitano Hospital (pictured to the right). It is absolutely world-class and accepts several types of insurance. You can go to their website and bring up info in Spanish or English about the types of insurance accepted. Since this market changes, I'll defer info for you to go the website.
Before we moved here to Nicaragua, I was "COBRA"d through my former employer and paid about $800 / month for the health service. Now, my personal insurance is through Vivian Pellas Metropolitano Hospital's Club Salud (Health Club), which covers my wife and me while we are in Nicaragua. When we relocated, I signed us up for the 'gold' version of the insurance….at about $100 / month total for my wife and me. So, for $1,200 / year (and a discount by prepaying a year in advance) we had what I call 'catastrophic' insurance. ER services were covered 100%, with most procedures covered from 50% to 80%, with pre-existing conditions under special review. As with most insurance, you have to be covered for quite a while (18 months to several years) before an existing condition can be covered. My high blood pressure and other small ailments did not warrant review.
The premiums had moved up to $61/month/person, though we still get a 10% discount by prepaying. Cheap by any standards.
So your next question is, "at this price can it be any good?". A quick personal testimony:
Most of the doctors in the hospital are members, so a regular fee of $30 is reduced to $10 / visit.
Most of the doctors speak English, and were trained in the states or at accredited Central American locales.
I had elective surgery on both feet at once. In the states, it would have been out patient, with surgery and recovery rooms utilized, about $18,000. My total bill here was $1,700 to the doctor's office and $800 to the hospital…and two nights in a private room!
I had non-elective colon surgery……potentially bad stuff. The doc said it could have developed into colon cancer, but we caught it early with an upper an lower GI procedure. Total cost, surgery center, recovery, and five days in a private room: about $3,600 out of pocket after the insurance covered the hospital portions. I have NO IDEA what this would have been in the states.
Only drawback: We are covered only in Nicaragua, so any trips abroad are a risk. I'll qualify for Medicare in about 2 years, so I'll sign up at that time.
Posted January 29, 2014