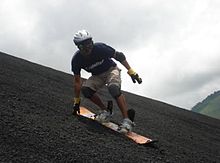 As healthcare is often quite inexpensive many choose to live without an international health insurance policy. I have seen way too many situations where a medical plan should have been purchased so that an emergency was covered to evacuate the person to another country or even to their home country for care. There are policies available that are reasonable.
If I were watching my expenses to keep them at a minimum but also take care of hospitalization costs, there are several good options.
Do consider adding a bit of expat life insurance to your strategy.
(Sandboarding, Cero Negro, Nicaragua, pictured.)
Posted August 08, 2017