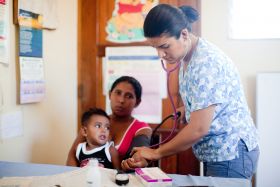 I got malaria while in Nicaragua. It was my own fault, really. I was not informed about how malaria was contracted, and I knew malaria was active in the area where I was. I have known several Americans who live in Nicaragua and none of them have ever had malaria. I really think it was just a fluke that I got it.

I have never heard of any locals or anyone at all having Yellow Fever.

Some tips on how not to get malaria. Do not go into rural areas during the rainy season at sunrise or sunset. If you must be in rural areas, then use bug spray with DEET. To be extra safe, go to a travel medicine doctor a few weeks before your trip and get a prescription for preventative treatment. You will have to start this medication a week before you leave. There are no vaccines for malaria.

If you get malaria, it is not the end of the world. The type of malaria in Nicaragua is the least dangerous kind. It is called Vivax malaria. I actually got malaria while pregnant with my oldest daughter in 2008. We are both alive and well. Odds are you won't have symptoms for up to a month after you leave Nicaragua. Important symptoms to watch for are flu like symptoms that come and go every 24-48 hours. Severe chills that come and go on the same schedule. Finally, headaches associated with malaria are like migraines. If you have any of these symptoms, any ER can test you for malaria and get you treatment right away. Treatment is simple and easy.

The picture is of a rural health clinic in El Transito. They have finger prick tests there for malaria. They also have medication on the shelf, ready to distribute. If you find yourself in Nicaragua with these symptoms, any local healthcenter or hospital can help you quickly and painlessly.
Posted April 10, 2014