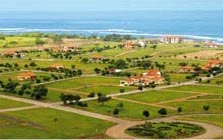 Which are the worst places in Nicaragua to live and retire depends on what you like.
For example, most of the expats I've met don't like the central city area of Managua, because it's too crowded, disorganized, the traffic is terrible and it gets messy very easily. By the way, I live in the city area of Managua, but I totally understand how some people feel about living there, because many people are looking for a peaceful and relaxing atmosphere. However, if you don't live in the main central part of the city of Managua, and instead live in Villa El Carmen or San Rafael del Sur, where all of the Managua beaches are located, like Gran Pacifica (pictured above; definitely not like the city area), Masachapa, or Pochomil, it's a totally different and quiet atmosphere. Yet, for lack of a better name for the beaches areas, they're still sometimes called "Managua", even though living at the beaches is nothing like living in the central part of the city.
Some people don't like the beaches, so they think the beach is not a good place to retire. They prefer the mountains, lakes or lagoon, so like I said in the beginning the best or worst place to retire in Nicaragua will always depend on your taste.
Posted August 25, 2014