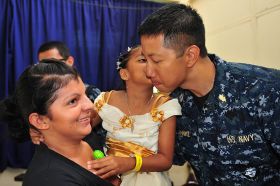 The rules of etiquette and customs in Nicaragua are different even from other countries in Central America. One of the first things you need to know, is that by nature, Nicaraguans are very warm and welcoming people. Below I have included a few things that you might want to know when either visiting or living in Nicaragua:
When meeting or greeting a Nicaraguan don't be surprised when he/she hugs you and kisses you on the cheek, like old friends. Nicaraguans tend to make you feel like family when it comes to meeting people or foreigners.
Most Nicaraguans are very polite and will rarely say anything that would be offensive to anyone present.
Nicaraguans are pretty indirect when it comes to answering questions about their age, weight, marital status, how much they make, how much something costs, etc. There's a little verbal dance that happens in order answer a question without answering it. If you are a foreigner, don't feel offended if you don't get an answer to your questions.
Being on time for a meeting or even a party rarely happens; showing up a half hour, even an hour late is acceptable. Punctuality is not valued very much. La Hora Nica is a very interesting thing. There's an expression, "Hay más tiempo que vida," "There's more time than life".Typically business meetings will start up to ½-1 hour late, though joking comments will be made about the lateness of the attendees.
If attending a wedding, a 15 year celebration or an anniversary, please expect the meals at about midnight. Go ready for eating between 11 or 12 at night. Get a snack before attending.
If visiting a Nicaraguan friend's home, you will notice that when guests come over, it is ALWAYS the woman – regardless of what position she holds outside the home – to provide for the guests. It's very rare that a Nicaraguan man cooks.
Nicaraguans use gestures when speaking, so don't be surprised when a person points at something with their lips, or if they move their hands to try to explain something, or when something catches their attention, they will raise their eyebrows. They also tend to smile very much.
Two things that Nicaraguans consider as rude are taking your shoes off at a meeting and putting one's feet up on a desk or chair.
Avoid saying 'no' when someone offers you something to eat/drink. Nicaraguans always want to share a little bit of their home and family with you.
Cleanliness is highly valued so it is best to avoid being seriously unwashed in public places.
If you don't speak Spanish and the Nicaraguan doesn't speak your language and you ask him/her for help or ask a question, he/she will try to explain you using their hands, their eyes, they will speak slower and they will even speak louder to try to explain you or help you with something. They may not stop speaking even if you don't understand one word. Don't be stressed; they are only trying to help.
These are just a few things from the top of my head that I consider important for you to know when visiting Nicaragua.
Posted August 20, 2014