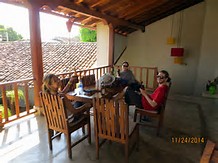 The dress code in Granada, Nicaragua is pretty open. Nicaragua is a tropical country so you expect people to be wearing a lot of shorts and t-shirts or short-sleeved shirts. The basic dress code is either jeans with a t-shirt or a short-sleeved shirt with a pair of shorts.
The dress code of women in Granada is the same as what you see women wearing in the States during summer. Women wear short dresses or shorts. The younger ones adore wearing shorter shorts. Nicaragua is an all-year summer country.
Expats would be wearing more colorful shirts, which is one of the differences I've noticed between how the expats and local Nicas ("Nica" is the local word for "Nicaraguan) dress. Expats wear more short-sleeved shirts, whereas the Nicas would be wearing more t-shirts.
(Tourists in Nicaragua, pictured.)
Posted December 15, 2017