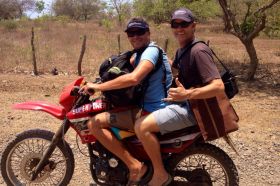 What your neighbors will be like in Nicaragua depends on where you're living. There are some very nice developments coming up in the area in northern Nicaragua where there are a lot of people from all over the world – New Zealand, Australia, Israel, Europe, and the US all living in the same development. That makes it very interesting. Cultural challenges increase and you can expand on that quite a bit, and it definitely makes life much more interesting. Developments are where most expats live.
If you choose to live in or out of a development, you're going to have all kinds of neighbors around you. In northern Nicaragua, there may be fairly wealthy farmers coming in from the city for the weekends, or local farmers who don't have a car and ride around on a horse and are great, hardworking people. It's amazing to watch how happy these people can be with the very minimal amount of money they make. This is mind-expanding, especially coming from San Diego where all people talk about is money.
I used to call it the 80-20 rule, but now I'm calling it the 90-10 rule. When I'm in San Diego at a stop light, if I'm turning left, I watch people turn in front of me and about 90% of them are either frowning or not happy, while 10% of them are happy and smiling. 90% of the people are driving very nice cars. And then I come to Nicaragua and it's the exact opposite. 90% of the people turn and are happy with big smiles on their faces, and the cars they're driving are way below the levels in San Diego. The happiness level is extremely high in Nicaragua, where the money level is much lower than in San Diego.
(Motor bike riding, Chinandega, Nicaragua, pictured.)
Posted April 05, 2017