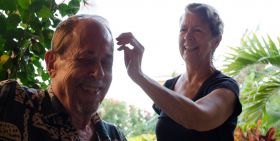 Expats in Nicaragua are pretty much loved by the Nicaraguan people. Nicaraguans like foreign people regardless of what country they are from. There is not a lot of diversity here, so for example, there is an Asian community here. There are Koreans, Chinese, etc. and they are amazing to look at. Nicaraguans look at them and they are curious. Nicaraguans are interested in their culture so they ask them about themselves. It is like putting an African-American in Asia where people freak out when they see him. They want to touch their hair and look at them. It is interesting in that sense especially if you go to rural communities. If you are Caucasian, they all love to look at you. They think that that is amazing. They love blue eyes and green eyes so they are completely enamored with the idea of somebody who is not from here.
I learned history from the perspective of the US. Sometimes you get a little cocky since you are from the US and you think that you rule the world. When you come down here to Nicaragua, or even somewhere else, you are humbled because you realize that the history that we were taught was very one-sided and when you hear the other side of the story, their perspective, and the way that the US actually helped overthrow their government back in the 80s you start thinking. You will get a different perspective, that is for sure, and then you make your own opinion as to what you think really happened. It is nice to hear two sides of the story but overall, there is no resentment. Americans are very much welcome in Nicaragua.
We have a huge community where people from the embassy live and it is fun that they have normal lives and hang out with Nicaraguans and others. Expats pretty much can have Nicaraguan friends, especially if they are Caucasian because Nicaraguans like Caucasian people. I am not certain as to the reason why they prefer Caucasian people but I think it is because most of the people here have brown skin.
(American expats in Nicaragua, pictured.)
Posted October 09, 2016