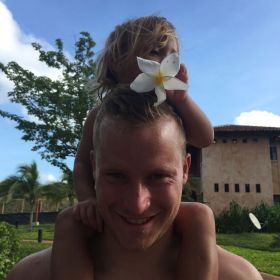 Living in Nicaragua, just like anywhere else in the world, has its ups and downs. The upside about living in Nicaragua is that you can raise your children really nicely. There is not that big of a drug problem here since drugs are really illegal. Even the tiniest joint of marijuana can get you 7 years of jail time, so your kids are a little more sheltered in terms of those illegal things.
The school system here in Nicaragua is not really nice. If you are going to be an expat to Nicaragua I don't think you are going to send your kids to a public school. Even though the public schools here are strong academically, their buildings are not as nice as they should be but they are very strong academic competitors.
Living in Nicaragua gives you a more laidback life with an island feel without it being an island. People here in Nicaragua take everything a little bit more easy, which drives us expats a little bit nuts because we're used to getting several errands done in the day. Things take a while here and it is just something that you need to know when you first move to Nicaragua. I wish somebody had told me this when I moved to Nicaragua. However, it is starting to get better because now you can do online banking here. It just happened here in Nicaragua but you still need to physically go to the bank to do a lot of stuff. I have a dental practice so I need to get permits, renew them, and update my tax codes. I had to do these transactions physically just like everybody does. This can be frustrating to expats because we are used to getting things done much more efficiently. But that is just the way it is here in Nicaragua and I don't think it is going to change for a while.
Another thing that most expats in Nicaragua should know is that bill tracking here is not really good. Sometimes your electric company or your phone company mess up. It could happen that they did not log your payment and so you would get shut off, so it is advisable to keep your bills and receipts for at least 3 years.
For me, these things that I've mentioned are the downers of living in Nicaragua because you have to waste so much time for these things. As a business owner, I have to show up and pay for things physically when I should be able to do that online or through the mail. There is no proper mail system here. Some people say that there is mail but in my 9 years of living here, I have never gotten anything in the mail. There are no street names here so people who are moving here should get used to that. When people here give directions, they use a point of reference. For example, they will tell you to go from the palm tree that's kind of broken to the left, three blocks upwards or to the south, and then there is a fat lady there always sitting in her chair; it's right next to her. Initially, I did get lost a lot and I still do sometimes but we are progressing and we are starting to use Google or Waze, which is an amazing app. I have stopped getting as lost as before. When you use Waze you can search for City Hall (for example), and the app will actually take you there.
When you see the actual app, you'll figure out that the roads actually do have names. As an example, it will tell you, "take left on Paseo European" but there are no labels on the streets. There are no street names anywhere so you wouldn't know. It's funny but you would get used to it within the first month that you're here. Those were the things that I wish that would change. It's just good to know these things. If I had known about the streets not having street names, it would have been amazing but it's really hard to learn the huge, "directional" addresses; they're like a paragraph!
There are also occasional rolling blackouts and occasional water interruptions but that is something that you can resolve by getting a water tank. These are no big deal but they are things that expats are not used to because we are used to living in the lap of luxury. Those are the things that just annoy me but once you get past those things, everything else here in Nicaragua is just nice. There are not a lot of things for kids to do here but it's nice to raise children here. If you start mingling with the right people and being a little bit active socially, there is a lot to do. It is something that you have to get the hang of just like anywhere else.
Overall, living in Nicaragua is great but the things that I mentioned are things that people do not tell you. These are things that you will learn when you get here and then you will get frustrated. I spoke with a lot of expats and those are things that we wished we knew before so you don't get shocked or feel like it's only happening to you. This is normal and even natives complain about it. That is just the way it is. I feel like if somebody told me that before, I wouldn't perpetually keep looking for a way to make things better because it's not going to happen since Nicaragua is so behind. That is just something that you need to understand and it is something that you need to get used to. You adapt and you will learn and then you will be comfortable. I am used to it now. If I could get three or four errands done in one day, that's amazing. I have hit my goal and that's great. In the States, you don't really think about that because you pay for your gas, you put your check in the mail, and it's gone. You pay for your electric in the mail, and it's gone. Now that we have online banking, you can do everything there. Sometimes it is not like that here in Nicaragua. There are times when you have to go personally to make these payments. Recently, Nicaragua started using phone banking, so you could call and make a payment using your credit card. At least you can take that one errand out of the way.
In general, I like living here in Nicaragua. We were thinking of moving back to the US this last year because we were supposedly projecting that that would be the timeframe to finish what we need to do but we decided that we would rather just stay here until our kids graduate high school just because I feel like my kids are going to grow up a little more sheltered here than in the US. Childhood is longer here in Nicaragua. The more that I look back to where I came from in the States and when I look back to Los Angeles and see my nieces and nephews, I see that they are living life a little bit more rapidly in terms of their adolescence coming earlier. Kids in the States are like teenagers when they are just about 9 or 10. I feel like they are not living their full childhood. A lot of kids here in Nicaragua have wanderlust so they are like little kids even though they are already 13 or 14. Their innocence is still there. Nicaraguans are very traditional and very religious so I think that helps kids be kids as long as they need to, which is something that I think is very important.
(Marissa Lolk's husband and daughter, Nicaragua, pictured.)
Posted April 15, 2016