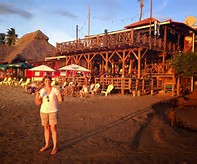 Nicaragua is a very happy place. It depends on what you like but, we have different kinds of entertainment in Nicaragua. We have discotheques and bars, too. Nicaraguans love to dance a lot and drink a lot. If you want to go out for drinks you can find a lot of places to go. You can find different kinds of nightlife here and it all just depends on what you want to do.
The type of entertainment is different depending on where in the country you are. In Managua, Granada, and Leon, you will find discotheques where you can dance. At the beach, you will find more bars where you can also dance, but it is not like in Managua where you have a discotheque.
Normally, most places that I've seen where there are bars with music and you can eat and drink at the same time are very nice. What is different in San Juan Del Sur is when you go out at night, there is a street in front of the beach where you will find all the restaurants and bars, so you can be hopping from one bar to another the same night. You can just walk and it is very nice.
(San Juan del Sur, Nicaragua beach bar with open mic nights, pictured.)
Posted May 08, 2015