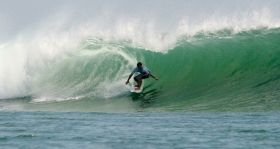 In Nicaragua we have a few very good places where you can see wildlife and exotic animals, including the San Juan River,
Mombacho
Volcano and
Ometepe
Island.
The Atlantic Coast of Nicaragua is a virgin region with beautiful beaches and rainforest.
In San Juan River you can see green frogs with red dots, monkeys, and alligators. On the Atlantic Coast you can find a lot of animals that are are close to extinction like big Carey turtles (Hawksbill Sea Turtle).
In the Pacific Coast, Nicaragua has great waves and is becoming a great attraction for surfers around the world.
Posted July 08, 2014