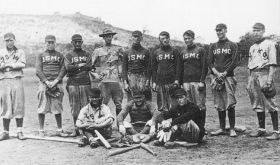 The main sport that developed historically in Nicaragua is baseball. A lot of people and even little boys play baseball here.
Baseball in Nicaragua was influenced by the US. We have two different types of leagues. There is a very popular league called the Pomares. Each state has a team on this league and there are about sixteen teams in the whole country. It is at a Double-A level compared to the US baseball leagues.
We also have the professional league. When the Pomares League is finished, they start a new one that is like the Triple-A league. It is like when the MLB (US Major League Baseball) starts and some baseball players from other countries like Venezuela and Puerto Rico come to Nicaragua. If they are not playing on the USA baseball team, they come here to play for 3 months. These players are paid but not as much as they are paid in the US or in Venezuela or the Dominican Republic. But they do get paid because these players are good players and they don't play cheaply.
Baseball used to be the biggest sport but now a lot of people are also starting to play soccer. It's getting more popular. Basketball is big here. I used to always play basketball and I still play sometimes. Now, running is also becoming popular as people from all over the world are influencing Nicaraguans.
(US Marines who brought baseball to Nicaragua, pictured.)
Posted December 07, 2016