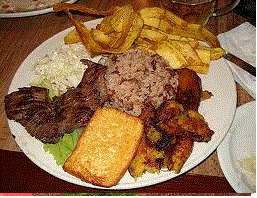 Nicaragua has a lot of traditional foods. One of the most popular traditional food of Nicaragua is gallo pinto, which is a dish made of rice and beans. You could also have it with cheese, or plantains.
We also have vigorón, which is a well-known dish from Granada. Vigorón is made of yucca and some salad. The most important part of the vigorón is the fried pigskin, which is called chicharrón.
Another traditional Nicaraguan food is baho, which is a mix of different types of food like bananas and beef. One typical food from Managua is carne asada, which is a piece of grilled meat that you could buy that anywhere in Nicaragua. You can go to the street vendors that sell fritangas and ask for carne asada and they would have it. You can have carne asada with a salad, gallo pinto, or with cheese.
(Gallo pinto, asada and plantians meal, Nicaragua, pictured.)
Posted October 06, 2016