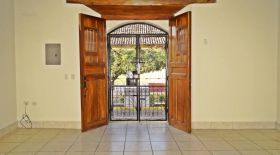 When renting a house or apartment in Nicaragua, it is good to hire an attorney as an adviser, but hiring one is not required to write up and finalize the contract. The attorney would help you understand the rental contract, especially if it is written in Spanish, to determine if everything makes sense so you can go ahead and sign it. The rental contract is a private agreement between the renter and renting parties, in which the contract states the rental period and cost.
Even though rental contracts in Nicaragua are usually written in Spanish because this may be used in court when there are disputes, make sure that you are given a version in English so that you know what you are signing.
There are no fixed rates for hiring an attorney to review a rental contract and the cost may range from US $20 to $50. You are being ripped off if an attorney charges more than $100 to review a rental contract.
(Entry way in a home in the colonial city of Granada, Nicaragua, pictured.)
Posted August 15, 2017