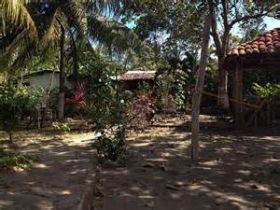 I don't personally know anyone who has renter's insurance in Nicaragua. In the US, people do and it's very common.
The insurance market here in Nicaragua is very small and lacks in variety. I'm not even sure if renter's insurance exists here. The most "renter's insurance" that exists here are iron bars on windows and doors. That's the best renter's insurance you can get.
I rent and I do not have renter's insurance. Buying it just does not occur to you and, for example, one of the very common practices here is that you don't leave your house alone. Also, generally speaking, the way the houses are built here, they don't often burn, so there's nothing or very little chance to lose anything in a fire.
(Beach houses, Nicaragua, pictured.)
Posted March 09, 2016