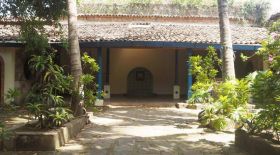 The cost to rent a vacation house in Granada is US $500 to $800 per week. These houses are furnished, include all utilities, and a maid who comes in to clean the house. Some companies may charge extra for the maid.
For $500 a week, you get a very nicely finished colonial house with a lot of details, furnished, and with amenities such as the Internet, water heaters, swimming pool, and a garden. This is a two or three-bedroom house in a good private location.
For $700 a week, you get a three-bedroom house.
For $800 a week, you can get a very nice three to four-bedroom house with a big swimming pool.
When searching for a house through Airbnb, make sure to review all the different options because the market and the offerings for vacation houses are growing. You can find good deals with Airbnb.
The prices of vacation houses will be a little less in Managua. Rivas and San Juan del Sur are more expensive. Granada is the middle ground for cost of vacation houses.
(Colonial home in Granada, Nicaragua, pictured. )
Posted September 28, 2017