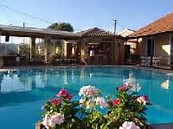 There are vacation rentals in Nicaragua for every type of traveler and every type of budget.
I have spent much of the day, today actually, researching the cost of vacation rentals in San Juan del Sur as I have a few friends visiting from the States next month. In San Juan del Sur y
ou can rent an entire home that sleeps 5+ people from
around US
$380 / week, just a short walk from the beach
. You can also rent an
ultra-modern mansion with an infinity pool, car and private driver for $7,000 / week. Of course there is everything in-between as well. We decided on a very modern, 2-bedroom condo with an infinity pool and direct beach access for a little over $200 / night.
If you rent by the month, you will of course will find significantly lower rates.
Please keep in mind that these costs are for San Juan del Sur, which is one of most expensive areas in Nicaragua. There are
beautiful (and very affordable) coastal vacation rentals all along the Pacific Coast. You can also rent colonial homes in Granada and Leon, villas in the rainforest, cabañas on a coffee farm, etc. Rental costs will vary from place to place.
(
San Juan del Sur, Nicaragua, pictured.)
Posted March 19, 2014