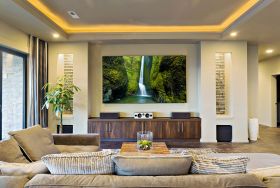 The cost to rent an apartment in Nicaragua ranges from US $200 to $1,500 a month and would depend on the size and location of the house. In Nicaragua, the idea of an apartment is different than in other countries because apartments here can mean "estates".
The cost of a one-bedroom house in a good district where everyone wants to be is $300 to $400 a month. A one-bedroom house located outside the tourist areas will cost $150 to $200 a month, but this apartment would be very basic and not have the same modern and upscale facilities.
An apartment in a very good area that costs $500 a month will have one bedroom, one bathroom, a living area, and small backyard.
My company will have six new apartments opening soon. For a minimum of $650, these apartments are located three blocks from the center of Granada (considered to be a higher cost area), and would have a kitchen, dining area, one bedroom, and one bathroom.
An apartment with its own bathroom and with enough space for only a bed and a desk would cost $200 a month.
A basic two-bedroom, two-bathroom apartment located in a very nice area a few blocks from the center would cost around $850 to $900 per month. An upscale two-bedroom, two-bathroom apartment in a very good area goes up to $1,500 per month.
The rental cost of a furnished house would depend on the designer of the house and how much stuff is in it. Only cable TV and Internet costs are included and you would have to pay for utilities like electricity, gas, and water costs outside of the monthly rent.
(Renovated living room, Granada, Nicaragua, pictured. )
Posted August 20, 2017