Nicaragua has a wide variety of homes and they, in many ways, are different that those in the United States or Canada. The similarities are self-evident…..walls, floor, roof, bedrooms, common areas. But the styles can be vastly different, and with designs for different purposes.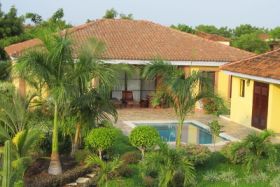 Styles, for the most part are what we'd call colonial, Spanish colonial, or Nicaraguan provincial. In Granada, for example, the colonial style will include high walls straight up from sidewalk. There will be doors along a series of connected walls along a sidewalk/street. Each door covers the entrance to an interior courtyard, with flowers and trees growing inside what is essentially the house. The bedrooms, kitchen and maid's quarters/laundry room surround the courtyard. Some of the original concrete wall supports may be hundreds of years old, with layers of construction on top of each other.
In Managua, the Spanish Colonial (Mediterranean) styles include walls around a large home, making an estate. The home will be constructed of concrete and steel, much like a commercial building in North America. Most homes in the states are concrete slab, or on concrete supports, with wood construction (2x4 walls) sheetrock inside and brick, stucco, or clapboard on the outside. Homes in the states may be subject to termite infestation, but this can be treated. Because the potential for heavy infestation, builders in Nicaragua construct with concrete and steel columns, with heavy headers (over doors and windows) and then use concrete block for filling the walls. Most of the roof in the states are plywood or OSB (oriented strand board) which make up the decking, and then covered with tar paper and then covered again with shingles. In Central America, the joists are usually steel, covered with metal or a type of corrugated fiberglass, and this has the look of roof tiles. In Granada, and many of the beach resorts, the roof tiles are hand-formed tile, and give an old world look to the completed homes.
Beach areas have varied looks, and in the development where I live there is a style called Nicaraguan provincial as in the picture above. This allows for long, low rooflines and very large front terraces and back porches. The homes sometimes have a maid's quarters attached to the laundry or kitchen areas, giving the family space to enjoy without have worry of meal preparation or laundry activity. All in all there are many "Spanish" styles, and home sized from 800 sq. ft. to mansions of over 6,000 sq. ft. on several levels.
Posted February 01, 2014