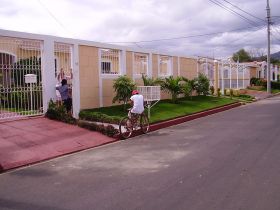 The city of Granada is just like any other city in Spain where the most prominent homes are always closer to the center and the less desirable neighborhoods are the ones that are farther away from the plaza.
The city is getting bigger and is starting to extend further out, so the government is now putting more money into the infrastructure in those areas that used to be considered not ideal for living. I have been working in Granada for eight years now and I have seen a lot of differences then and now. There used to be no roads and no sewage, but now that the city is moving forward, I see new roads and new sewage systems. Even the old and unpleasant looking neighborhoods are now looking better. The roads are now paved. The houses that were not paid much attention to are now being fixed by the local Nicaraguans who own them.
My market is now changing because we now have more Nicas coming back from Costa Rica, Los Angeles, and Miami and they are trying to buy homes in Granada. I have more Nicaraguans looking at my website and checking out my listings. A lot of the Nicaraguans who have left the country and went to places like the US are now looking at moving back, and they are bringing their money with them. Some of those places in Granada that were not as nice before, are now being upgraded by people who are bringing in money from other places who are actually native Nicaraguans.
There is also another group of Nicas who are married to expats. These people are maybe 60 to 70 years old now and are similar to an American couple trying to leave the States because they don't have a lot of money and their budget is too tight, so they try to put their budget somewhere else. The only difference is that they are from Nicaragua, so for them to make the decision of living here is easier because they know the place. In my opinion, the confidence in our future in Nicaragua is much stronger now than it was before; otherwise, nobody would put more money in the country like today.
In the States, you will be expecting to pay $300,000 to $400,000 for a house, but then you realize that you do not have the budget for it, so you start looking into other places where you can get a decent house to live in. In Nicaragua, you will find houses for $85,000 and on top of that, you will pay less tax. Nicaraguans are not as demanding as Americans are in quality or style. Houses here have the same four walls, the same roof above their head, the same windows and door, and a toilet, the only difference is the price.
Posted December 13, 2014