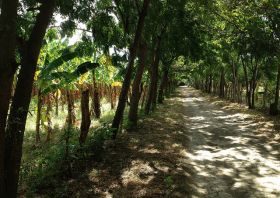 In Nicaragua, in order for a contract to be enforceable, it should be in Spanish. At the Mortgage Store we translate every single one of our contracts for our clients who do not speak Spanish and always have an attorney from Nicaragua review it.
There is no purchase contract per se because out here, it is called Promise to Sell. Both parties sign what is called a Promise to Sell and then that document is registered in the recorder's office so it becomes publicly noted. Once the terms are fulfilled, then the contract would become a sold receipt and that kind of closes the transaction.
The Mortgage Store uses a process that is the first of its kind; a trust or a company that is dedicated to handling trusts. All our transactions are handled through them. The reason why we use a trust versus a public recording process is because every time that you record a document, the taxes are charged on the face value of the document. For example, if it's US $100,000 promise to sell, you pay 1.5%, or $1,500. When you register the property in your name, then the face value is again $100,000 so you will be taxed another $1,500, for a total of $3,000 on what is essentially one transaction. In contrast, if you use a trust, you only have to record the trust once and then we can fulfill the terms of our agreement with the client within the trust and it is not recorded over and over again. We find this to work for us and it definitely works for construction and build process.
(A banana farm outside the village of San Jose del Sur, Nicaragua, pictured.)
Posted July 27, 2015