The cost of Nicaraguan homeowners insurance policy is generally based on three variables; value of the house (less land), type of construction, and the location.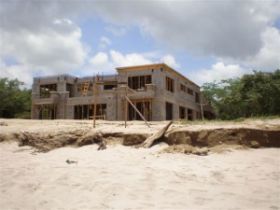 For example, a colonial house with an insured value US $150,000 in Leon, made of adobe, would cost from $750 to $1100 annually. The same value house in Managua made of reinforced concrete may cost $450 to $600 annually. Same value house on the Pacific side of Nicaragua would cost $550 to $700; depending on the proximity to the high tide water mark.
There are five National insurance companies in Nicaragua offering homeowners coverage. It's worthwhile to get quotes from all five as they use different pricing strategies (as noted above) depending on the property type and location.
Other cost factors to a Nicaraguan homeowner's policy are a 2% policy fee, 1% tax used to support fire prevention and the 15% sales tax, both of which are added to the net premium.
TIP's:
Unlike the U.S. or Canadian insurance companies, Nicaragua insurance companies do not charge a finance fee for paying premiums in installments of 4 to 6 payments.
If you're buying insurance directly from an insurance company always ask for a discount. More often than not they will reduce the price a bit.
Brokers often have inside knowledge about discounts, or free additional coverage that an insurance company is offering to gain market share. Common here because insurance companies often don't advertise this information.
KNOW THIS:
Since building codes are less stringent here in Nicaragua all homeowner policies are individually underwritten by the insurance companies. Unlike State Farm or Allstate, back home, automatic Underwriting/Binders do not exist in Nicaragua. That means that the property is not insured until it's inspected and approved in writing.
Posted October 23, 2016